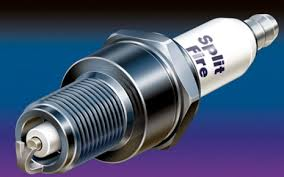 Important note about rare problems encountered with SplitFire® spark plugs
SplitFire spark plugs feature a smooth porcelain insulator. Modern original equipment and aftermarket spark plugs have ribbed insulators for some of the reasons explained below. Therefore, care will be necessary if you intend to use Magnecor spark plug wires with spark plugs using smooth porcelain insulators.
Genuine silicone rubber spark plug boots can temporarily bond to spark plug porcelain. The porcelain contains silica which, in time, tends to temporarily bond to the silica in silicone rubber used for high-temperature spark plug boots. Spark plug manufacturers introduced ribs years ago to reduce flashover and surface area contact between boots and spark plug porcelain. Under prolonged heat, spark plug boots, especially if made from high-temperature silicone rubber used on Magnecor wire sets, can temporarily bond to smooth porcelain insulators. Therefore care with removal will be needed. Generally, this problem is overcome by applying silicone grease to the inside of the boot, but with spark plugs using smooth porcelain insulators, another problem can be made worse.
Ribbed insulators also help vent air inside spark plug boots as boots are pushed over spark plugs. However, smooth porcelain insulators can cause air that normally would be displaced by the spark plug to remain in some boots in a compressed state (especially spark plug connector assemblies with plastic extension tubes used on multi-valve engines). The compressed air inside the boot will be heated by engine heat and the excess pressure will sometimes cause boots and terminals to pop off spark plugs.
If you are already using spark plugs with smooth porcelain insulators you may suddenly start to experience the above problems only after you fit Magnecor wires. This is because your old spark plug boots, which may or may not have been made of silicone, had dried to become porous with age. Magnecor spark plug boots are made from the best available insulating materials to withstand heat and to seal properly over original equipment and conventional aftermarket spark plugs.
Flexible all-silicone rubber boots can be wiggled to help remove air inside boots when being fitted over spark plugs with smooth porcelain insulators, however by the nature of their rigid design, to be safe, spark plug connector assemblies with plastic extension tubes should be refitted after the engine and spark plug connectors are at normal running temperatures.
Magnecor cannot take responsibility for any problems attributable to using spark plugs not made to original equipment specifications. Please contact Magnecor or your dealer if you have any questions and please read other fitting instructions supplied with this set.

Please call your dealer, or Magnecor, if you have any questions.
Please feel free to contact Magnecor if you have any feedback, we are always interested in your comments.